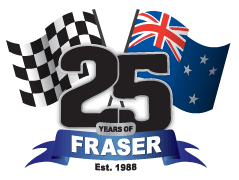 Fraser Cars are kicking off the 25 year celebrations at the Intermarque Concours d'Elegance, in Ellerslie, on Sunday. There will be a cake and plenty of Frasers to admire. We're hoping that Neil Fraser will join Scott Tristram in the motorkhana event.  It will be great to have both the founder and the present owner of Fraser Cars showcasing the marque.
If you are in Auckland this Sunday 10 February, we look forward to seeing you there.
The show is 10am to 4pm. Cost is $15, kids under 12 free.
More details about Concours can be found here.