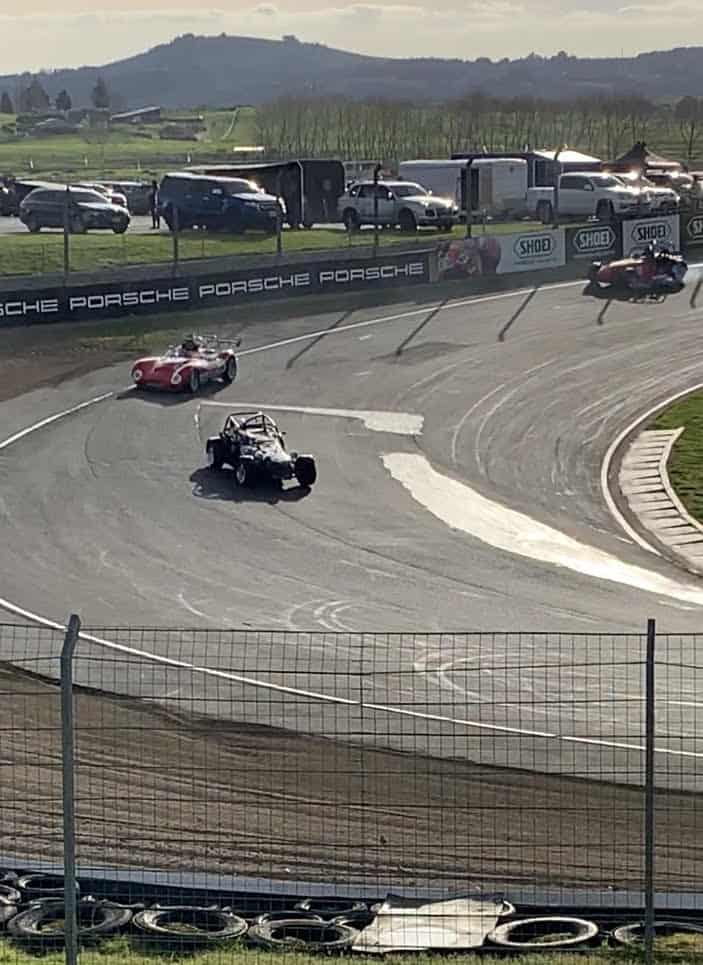 Finally it rolled round last Sunday 1st September, the first Clubman Sports Car Racing meeting of the season.  We were a part of the Auckland Car Club's first meeting, at Hampton Downs.  A week before the day there'd been a flurry of activity as organisers tried to drum up more Clubman cars to make the grid.  There were only 5, then finally 7, which was just enough.  Our field was made up of three Redlines, one Westfield, one Mallock U2, one LJR special, and my solitary Fraser, racing number 99.  Myself, two of the Redlines and the Westfield were sharing a garage.
Sunday was cold and foggy, we were scheduled to practice at 8am.  I had woken the children at 5:30 and we were on the road at 6:15, arriving at the track just on 7.   Toko had wisely decided to come out a bit later.  We didn't get out on track until about 8:25 in the end.  Didn't even get one lap in, I came along the front straight approaching turn 1 and there were flashing yellow lights and the U2 was already in the wall, missing a rear wheel.  Too much too soon on cold tyres…  So, red flagged session and back to the pits.  The fog wasn't improving and it was still cool, but eventually we got back out there, and the grip was pretty good although the fog actually got a little worse through the session.  I was feeling my way but towards the end as the green lights started flashing to signal the end of the session I thought "OK, only one more lap, make an effort" and pushed it a bit more.  The car hung on pretty well though I wasn't sure how long my talent / luck would hold out, I was almost looking forward to finishing, but lights were still flashing green when I came around so I went again.  The first full-effort lap turned out to be the best, a 1:14.7 and good enough for first in qualifying.  Now I knew (because I'd done my homework on https://speedhive.mylaps.com) that two of the Redlines could do low 12's on their slick tyres so I didn't get too excited, but it was still 2 seconds faster than I'd ever done before around HD, and my last time racing there was 7 years ago…  So there's still life in the (25 year old) chassis No.45.
The race format was a two-group start, slower cars first and then the faster cars 40 seconds later.  For Race 1, as we were down to 6 there were 2 in the first group and 4 of us in the faster group, me at the back.  After waiting 40 seconds we must have all been desperate to get going because it seemed like we all spun the wheels up way too much, and struggled off the line.  One of the Redlines (Colin Grant, who I'd been following at Manfeild last November) was clearly having an off day as I was able to get past him, and the Westfield, and pull away.  The other Redline (Patrick Collins, who used to be a Fraser owner…) was a bit of a challenge though, I wasn't able to catch him though the gap was never very large.  The two of us managed to catch both of the earlier-starting cars.  So we came home Redine, Fraser #99, Redline, Redline, Westfield, LJR.  Patrick managed a 1:12.6 and my best was a 1:13.2 so I was pretty pleased with that.
The LJR retired after Race 1 so we were down to a paltry 5 cars…  Race 2 was in much warmer conditions than 1 and, non-professionals that we are, some of us didn't adjust well enough.  It felt like there was a lot less grip (it wasn't helped by plenty of oil and cement at Turns 1 and 2).  I just didn't feel all that good in the car and it was reflected in the times, my best was a 1:14.8 and the winner (Patrick) had a best of 1:13.8, so we were both off quite a bit.  Colin, myself and Farhad (in the Westfield) also spent a lot of time dicing which slowed us down, with the Westfield getting past me with a great banzai charge down the inside at the tight right hander (Turn 8 I think it is).  Only Patrick caught the earlier starter, and we came home Redline, Redline, Westfield, Fraser #99 plus Colin's off-day Redline DNF with a broken driveshaft.
With our Clubman field now down to only about 2.7 tonnes of working cars, we were merged into the Racing Saloons' last race, a roll-up handicap.  They were an interesting bunch, including a Radical SR8, at least one V8 Supertourer (I suspect a bit down-rated, from its lap times, though it claimed to still be 7 litres), and one quite quick turbo Toyota Starlet.  The Radical had looked slow early on in practice but had gotten it together in the races and had gone under 1:10 (only car of the weekend to do so).  So he was probably given a crushing handicap just for being a sports car which explains why I never saw him.  I started by myself in the 4th group, fluked the launch just right this time somehow and it went like a paddle-shifted rocket down to turn 1.  I learned later that the group 5 cars started with me by mistake, but my start was good enough that I didn't even see them in my mirrors for at least half a lap.  Those mixed up races are great fun, you just need to either get all the way past the bigger cars under brakes, pass them very carefully around the outside if it's wide enough, or just follow them through the corner, because the drivers can't or don't see you.  So some time lost in traffic picking past the slower cars, but still good fun.  The Starlet caught me half way round the last lap, and then I couldn't quite get past the last of the earlier starters in front of me, so had to settle for 3rd, the Supertourer Commodore just behind me, the four of us all covered by less than 2 seconds at the finish, a great effort from the handicappers.
So, with a 2nd, 4th and 1st (HC) in the Clubmans field it was a partial victory for the Beach Haven marque on the day.  Best of all there was a 100% finishing record for Frasers, vs 67% for Redlines and only 33% for the other Clubman makes combined…
Would have been good to have more Frasers there so I'd have had more to write about.  Second meeting is on 6th October at Pukekohe.  I won't be there as we will be watching rugby in Japan, but looking forward to getting back to the racing at the start of 2020.  Sounds like there are 10-12 cars 'promised' for Round 2, could always do with more.  The format of two groups means that you don't need to worry about having much faster cars around you, and if any of the second group do catch the earlier starters the field has already spread out so there is much less risk of a tangle.  We had lap times from 1:12 to 1:29 in our group with no issues at all, everyone was enjoying it.
Cheers,
James – Fraser #45
If you're keen to join in the fun check out Clubman Sports Car Racing on Facebook