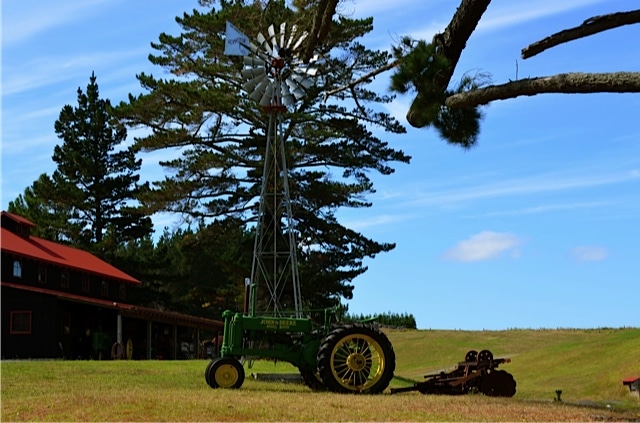 To receive an invitation to visit the Leadfoot Ranch was one thing. To visit the Ranch and meet Rod Millen was extraordinary.
We fueled up the Fraser, put on our driving hats and travelled to Hahei, a picturesque township in the Coromandel Peninsula. We called Rod to say we had arrived and were greeted with a cheery 'I'll be right down'. We followed him up to the barn (past the 200MPH speed limit sign) and got out of the Fraser to take in the surroundings. They are wonderful surroundings.  The photographs and videos of the Leadfoot Festival don't seem to capture the extent of the land. The property is extensive, it takes around 40 hours to mow the lawns (ride on not hand mower).
Rod took us for a tour, pointing out where visitors to the Leadfoot Festival will park,  where Auto Alley will be, where the motorbikes, competing cars and drivers will be. There are many changes from the previous year and a spectacular feature, that we can't wait to see completed. Rod and Shelly clearly have a splendid vision, which they are mindfully creating. Leadfoot will be a very special, fresh event each year.
As we travelled up the driveway we marvelled at the plantings. The property has so many elements, many of which have been thoughtfully built around to admire. Rod and Shelly have milled trees from the property, using them in new structures around the Ranch. All buildings seem to have been created with the utmost respect for the land.
Rod was humble, respectful and extremely generous with his time. He shared the Leadfoot vision and gave us a wonderful insight into his life; we are so very thankful for that opportunity. It is a day we will treasure for our lifetime.
We were fortunate to have a look inside the barn. The pictures and video below will do the talking.  This is only a tiny peek into Rod and Shelly's world.  They are opening their home again this year, 22-24 March 2013.  It is an event that not only showcases stunning cars and motorbikes, it celebrates the people of motorsport and their achievements.
Fraser Cars will be there celebrating 25 years of handcrafting Frasers, we look forward to sharing the Leadfoot experience with Rod, Shelly and many, many other incredible people. We hope to see you there.